Meet the officers for the 2017-2018 school-year!
Stephanie Cantrall - President

My name is Stephanie Cantrall and I am the president of the club. I am a Senior majoring in animal science with a pre-vet option as well as a chemistry minor. I am from Hillsboro, Oregon and graduated from Century High School. During high school I played basketball and ran track, as well as was involved in band. I have wanted to be a veterinarian since second grade and have always been interested in small animals, but recently my interests have spread to larger livestock and wildlife. I love to volunteer with both animals and humans. If you have any questions about me or anything I volunteer with or would like to get more interested in agriculture contact me!

Ashley Carlsberg - Vice President
My name is Ashley Carlberg and I am a third year animal sciences major. I'm from Portland, Oregon and I want to attend Oregon State College of Veterinary Medicine. My ultimate goals are to travel to across the nation helping control overpopulation of pets and lower euthanasia rates. I currently work at Town and Country Animal Clinic and the OSU Sheep Center. I am also the Vice President for Sheep Club, the management coordinator for NSCS and a research assistant for three PhD candidates in the Human Animal Interaction Lab. I enjoy volunteering at Heartland Humane Society, Chintimini Wildlife Center and Gresham Animal Hospital. When I'm not studying, I enjoy playing volleyball, camping and going on adventures. I love teaching and getting members involved, so feel free to ask me any questions!
Kimi Gerstner - Treasurer
My name is Kimi Gerstner and I am the Treasurer for PVMA. I love all animals but large animals and cats are my favorite. I would love to go to the Oregon State Vet school when I graduate. I work part time at a research lab in the College of Forestry as well as at an adult foster home in Harrisburg. I'm also an officer for collegiate FFA. Whenever I'm not in class, clubs or studying, I enjoy hanging out with my friends, reading, and watching Netflix. I just recently got a new kitten named 'Stache (short for mustache) who takes up the rest of my free time. If you have any questions feel free to ask me!
Katie White - Historian & Secretary
My name is Katie White and I am your 2017/2018 Historian and Secretary. I am a junior majoring in animal science with the pre-veterinary option and a chemistry minor. I have a passion for dairy medicine and one day hope to run a rural practice in Montana or Idaho. I spend most of time studying and working. I also spend a good deal of time working with three veterinarians based out of St. Paul, OR during the summers, participating in graduated research, volunteering for lambing crew and a homeless animal clinic based out of Eugene, OR, and I am also part of Steer-A-Year. When I do find myself with a little free time, I spend it with my rescue dog Ronin, who is a two year old Lab/Whippet mix with severe anxiety and abandonment issues. He has a taught me a lot about animal behavior and recovery. Additionally, I spend WAY too much time watching Netflix. I look forward to meeting you all!
Hadley Schoderbek - Volunteer Coordinator
Hello! My name is Hadley Schoderbek, and I am your Volunteer Coordinator. I am a Senior majoring in biology with the pre-veterinary option and chemistry minor. I am very passionate about shelter medicine, and I will be pursing a career as a shelter veterinarian. I also have special interests in orthopedics, animal behavior, and acupuncture–all when applied to a shelter setting. I enjoy volunteering at my local animal shelters, helping out at a horse rescue, working at the Bend Spay and Neuter Project, and fostering retired racing Greyhounds. I am also very involved with the Human Animal Interaction Lab on campus and am currently studying sociability and attachment behavior in shelter dogs. Let me know if you have any questions about volunteering, fostering, or preparation for vet school in general–I'm always happy to help!
Katrina Hiebel - Activities Coordinator
My name is Katrina Siebel and I am your PVMA Activities Coordinator this year. I am a senior majoring in zoology. I graduated from Glencoe High School in Hillsboro, Oregon. I have been an active member of PVMA for the past three years and am also a member of the Pre-Vet Scholars with he Honors College. I am currently working in Dr. Kutzler's lab doing research on bovine placental retention. I spent the summer working at an emergency veterinary clinic and applying for veterinary school. I am excited for this year and am always eager to answer any questions!
Larissa Pless - Fundraising Coordinator
Hi my name is Larissa Pless and I am your 2017-2018 fundraising coordinator for PVMA. I am a senior here at Oregon State majoring in Animal Science with a minor in Chemistry. I have a passion for livestock and I am pursuing to be a large animal veterinarian. I currently work for the Corvallis Research Center and have really enjoyed working with some of the cattle there. This will be my third year in PVMA. I grew up in Bend, OR where I enjoy hiking with my two dogs Trip and Tate.
Ashlynn Brewster - Fundraising Coordinator
Hi! My name is Ashlyn Brewster and this year, I am on of the fundraising coordinators. I am originally from Redmond, OR and I am a senior majoring in animal science with a pre-vet option and a minor in chemistry. My pride and joy is my horse Jake, who I used to compete with in three-day eventing and in various events on my high school equestrian team. I have a passion for large animals and my dream is to become a large animal vet with specialization in equine sports medicine.
Sarah Anderson - Symposium Coordinator
My name is Sarah Anderson. I am a senior here at OSU and originally transferred from Arizona. I am an animal science major with the pre-vet option, specializing in companion animals and poultry. I have a variety of pets including two water turtles, two dogs, two box turtles, three cats, a mouse and a fish. In my spare time I enjoy cooking and volunteering at a wildlife center.
Taylor Bean - Agriculture Executive Rep
My name is Taylor Bean. I'm a Sophomore and an animal Science/ Pre-Vet student. I grew up in Las Vegas, and am the oldest of five siblings. I have a 4 month old puppy named Athena . As well as two Italian greyhounds and a chocolate Labrador back at home. In my free time I love to go hiking, paddle boarding, and the occasional Netflix binge. I look forward to furthering my skills as a pre-vet student and going on new adventures.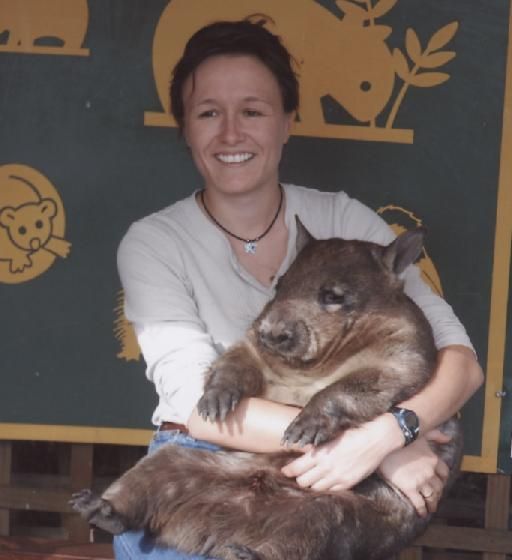 Dr. Erica McKenzie - Advisor
Dr. McKenzie graduated from Murdoch University Veterinary School in Western Australia in 1996. She spent some time in mixed practice in Australia before completing an internship at the University of Guelph in Canada, followed by a residency and PhD in Large Animal Medicine at the University of Minnesota. She then spent two years in an equine performance laboratory at Oklahoma State University where she also became involved in research activities with racing Alaskan Sled Dogs. Dr. McKenzie is an Associate Professor in the College of Veterinary Medicine at Oregon State University, and a specialist in large animal internal medicine and also veterinary sports medicine and rehabilitation. She has a strong interest in human and animal sports medicine and exercise and is also one of the coaches for the OSU triathlon club.
Dr. Giovanna Rosenlicht - Advisor
Dr. Giovanna Rosenlicht is a companion animal veterinarian and instructor in the Department of Animal and Rangeland Sciences. She received her DMV (Dottoressa di Medicina Veterinaria, translates to DVM in the States) at the University of Perugia in Italy. After returning to the US, she spent a year at Iowa State University after which she accepted a position at an equine and companion animal practice in WA. Most recently her focus has been on companion animals (primarily dogs and cats). Before accepting a position at OSU, her employment history includes general practice, being the medical director of a shelter and work in an emergency clinic. Areas of professional and personal interest are behavior, animal welfare, shelter medicine, and the human animal bond. In addition to pursuing her professional interests she also spends time with her family (a son, two dogs, two cats and some backyard chickens). As well as being a co-advisor for the pre-vet club, she is a member of the OSU Triathlon Club and on the Board of Directors for Heartland Humane Society.